Our RADAR Workforce Capability Model
Industry Graduates improves workforce capability through design and implementation of commercially focused strategies for employers and industry bodies.
Strategies focus on attraction, recruitment, development and retention of the workforce from pre employment to leadership.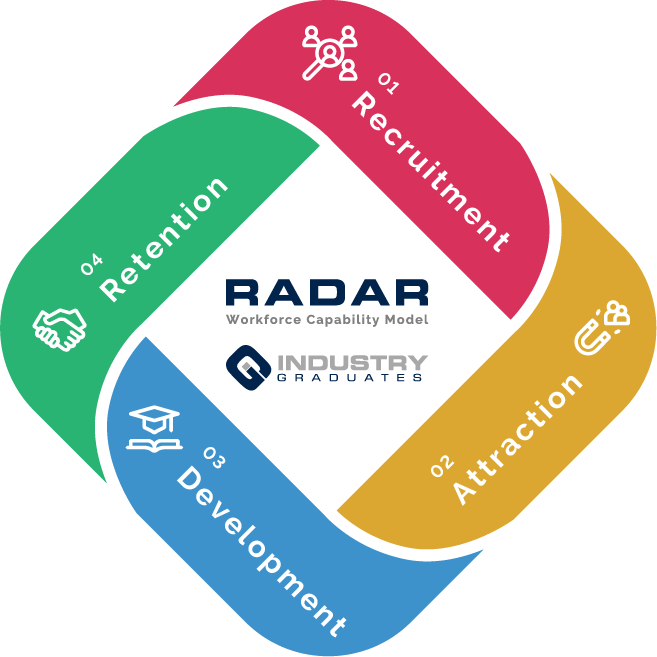 Services and outcomes include:
Review of employer recruitment strategies
Building a talent pool (options for apprenticeships, casual hires and permanent placements)
Commercialisation of the recruitment process
Access to Labour Hire candidates
Creation of an Employer Learning Academy to recruit new staff
Creation of partnerships with RTOs for student recruitment
Creation of customised online and in-person assessments
Services and outcomes include:
Review of employer attraction strategies

Partnering with RTOs workplace placements and building industry talent pools

Creation of an Employer Academy to attract new staff

Specialist marketing to school leavers and young career aspirants

Hosting Assessment Sessions / Days

Running Industry / Employer Career Days and Information Sessions
Services and outcomes include:
Commercialisation of professional development eg. Launching an Employer Academy
Improving the operational processes associated with training
Reporting and analysis of programs
Creation of strategies to fund additional employee accredited training
Review of payroll tax exemptions and rebates
Creation of professional development programs and pathways to address specific employer needs
Procurement / provision of learning management systems (LMS)
Implementing support systems eg. development coach model to support your accredited training pathways
Creation of customised development material and assessments
Build your leadership pipeline through our development programs
Tailored senior leadership programs enhancing capabilities and expertise


Services and outcomes include:
Review of employer retention strategies
Creating ongoing development pathways into leadership (promote from within strategies)
Development of KPIs for management
Development of value-add staff programs eg. leadership training and health and wellbeing initiatives
Preparation of employer training award submissions
We're passionate about delivering commercially focused strategies to assist employers and enhance their workforce capability.
Industry Graduates provides professional development by combining industry expert training with a range of accreditation options. Whatever your industry, we offer learners a blended learning approach delivering skills that leads to meaningful outcomes.
Partner with Industry Graduates to deliver your staff industry leading and endorsed training through a professional development pathway.
Ready to transform your recruitment and development activities?
Industry Graduates is passionate about transforming recruitment and development models. Contact us today to get started.