We're passionate about meaningful training & real job outcomes As a Group Training Organisation (GTO), Industry Graduates is passionate about finding meaningful training and real job outcomes in a variety of different industries and organisations. We also like to do things a bit differently, challenging traditional recruitment and training business models. Industry Graduates believe accredited and non-accredited training should be delivered by industry employers that have the expertise in their sector and more importantly give our students the opportunity to build relationships with employers to assist in real job outcomes.
How do Group Training Organisations (GTOs) work?
GTOs employ and train apprentices and trainees. The GTO then places these trainees into real work/study at a 'Host Employer'. Industry Graduates is pleased to partner with leading, award-winning Employers in various industries.
Work with Industry Graduates to find your next apprentice or trainee.
What are the benefits of using a GTO?
Access to a new source of apprentices and trainees that previously were not being hired directly.
Complementing direct hire operations with a 'low risk' recruitment strategy for unskilled workers. Trainees are pre-screened, recruited and can be employed by the GTO not the employer. A true 'try before you buy' strategy that works.
Cost reduction. The employer will be able to access far more cost-effective casual employees through the GTO than when compared against full-fee labour casuals from other recruitment or labour hire agencies.
An 'On Ice' Talent Pool. The GTO employs the apprentices and trainees while they are studying their qualification for up to 2 years. During this time the GTO will enable the employer to effectively place any of these apprentices/trainees into permanent positions at a heavily discounted recruitment fee often as much as 85% off a usual agency recruitment fee.
Equally the employer's own recruiters can access this 'talent pool' as needed and choose the best quality candidates for permanent positions as they become available. This will save direct recruiting and marketing costs along with a significant reduction in total recruitment time to hire.
Improved employee retention due to a deeper connection between the trainee, the employer and the training organisation. This is a partnership and not the traditional 'dump-and-run' model that most recruitment agencies operate.
Industry Graduates Talent
Our strategy for success - train first, recruit second
Industry Graduates works alongside internal recruitment divisions to provide the entire business with an integrated direct hire and vocational training solution. We facilitate a talent pool made up of trainees, apprentices and casuals at various stages of career development that our Employer partners can access.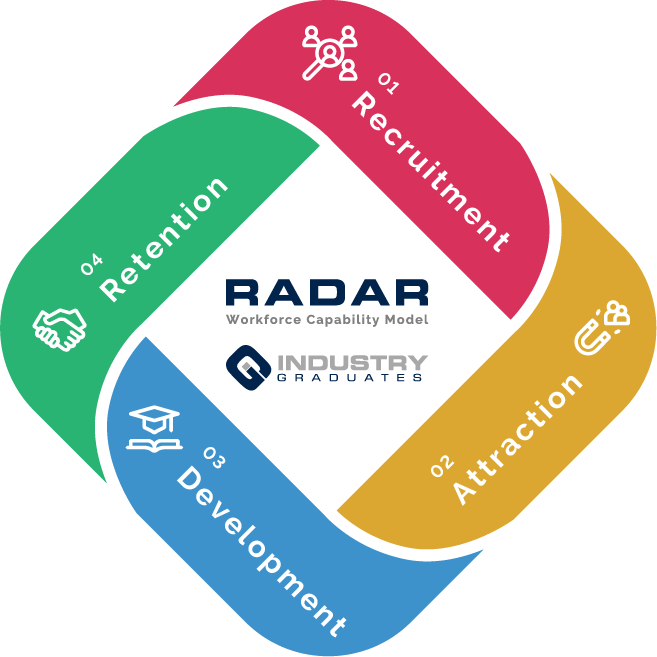 Want to hear more?
Contact us and a member of the Industry Graduates team will be in touch.